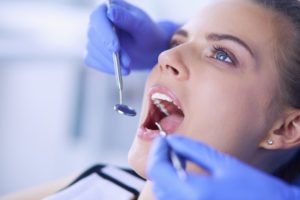 It's safe to say that most of us are ready to leave 2020 in the past and turn over a new leaf in 2021. If you're like most people, your New Year's resolutions probably have something to do with staying as healthy as possible. Maybe you're trying to eat more veggies or exercise more often, but you might be neglecting a crucial aspect of your overall wellbeing – your smile. One easy way to keep your smile healthy is by attending a dental checkup in Goodlettsville. Here are three reasons why you should start the new year off right by scheduling your checkup and cleaning early in 2021.
1. Take Advantage of Your Dental Insurance Benefits
Most dental insurance plans reset the moment the clock strikes midnight on December 31st. This means that your annual maximum has been restored. If you find out at your checkup that you need additional treatment, like fillings or a crown, you'll have more insurance coverage available to spend on those procedures.
Plus, the vast majority of dental insurance policies cover two checkups and cleanings a year with little to no copay. These appointments can help your dentist in Goodlettsville detect oral health issues like cavities early on, or even prevent them entirely.
2. Prevent the Need for Expensive Treatment Later On
At your appointment, the dental hygienist will use special instruments to clear away plaque and tartar that have built up in your mouth. These substances contain bacteria that lead to tooth decay, gum disease, and more. By getting your teeth professionally cleaned twice a year, you'll greatly reduce your risk of needing pricey treatment down the road.
3. Avoid Overall Health Problems
Poor oral health has been linked to a whole host of general health problems. Gum disease in particular has been associated with a higher risk of:
Heart attack
Stroke
Type 2 diabetes
Alzheimer's disease
Osteoporosis
Not only can regular checkups and cleanings keep your whole body healthy, but they can save you money by helping you avoid the need for high medical bills later on.
Getting two dental checkups and cleanings a year may not seem that important in the long run, but when it comes to dental care, an ounce of prevention is truly worth a pound of cure. Make 2021 the year your smile stays healthy by calling your dentist and scheduling an appointment right away!
About the Author
Dr. Deidra Harrison-McClain is a family dentist in Goodlettsville, TN who obtained her Doctor of Dental Surgery degree from the Meharry Medical College in Nashville. She has experience in many facets of dentistry but prefers to take a preventive approach and gladly educates her patients on how they can keep their pearly whites clean and healthy between appointments. Her practice, Goodlettsville Smiles, accepts all dental insurance plans and is even in-network with several of them, including Delta Dental, Cigna, BlueCross BlueShield, and MetLife. To get your 2021 off to a great start, you can contact Dr. McClain's office at (615) 859-0188.