Delta Dental Dentist – Goodlettsville, TN
Save More With Your Delta Dental Insurance
Delta Dental has been around for decades. Helping individuals take better care of their smiles, the company offers unique plans with outstanding benefits. If you are a policyholder, you already know the advantages of investing in this type of insurance, but if you're trying to find a Delta Dental dentist in Goodlettsville, you've come to the right place. Dr. McClain and our team will work with you to establish ways you can save each time you visit. Whether you need a general checkup and cleaning or root canal therapy, we'll maximize your benefits and help you keep more money in your pocket. Contact us today to find out how we can do more to improve your oral health while also getting the most out of your Delta Dental insurance.
Delta Dental Coverage Availability & Fees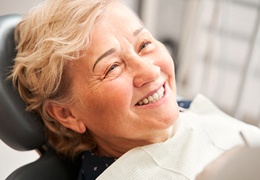 When it comes to identifying the one service that dentists continually advocate for and encourage patients to pursue the most, it is preventive care. Why? Because it not only reduces your risk of tooth decay, gum disease, cavities, and oral cancer, but it also saves you the most money because, with Delta Dental, your six-month checkups and cleanings are covered!
Your plan may not look the same as someone else with Delta Dental, but it's likely the benefits look quite similar:
100% preventive services
70-80% minor restorative services
50-70% major restorative services
When you choose to purchase a plan through Delta Dental, you agree to pay a monthly premium for access to the above-mentioned benefits. Dental fillings, crowns, root canals, tooth extractions, and much more can be more affordable thanks to enrolling. But even better is choosing to see an in-network provider like Dr. McClain. Her efforts to keep costs low by pre-negotiating services and fees with Delta Dental make it possible for you to receive high-quality dental care without breaking the bank.
But remember, you're never obligated to see an in-network dentist, but you can expect to pay more if you don't. If we are not in-network with your dental insurance plan for any reason, we will still provide the same great service, and we'll work to find ways to help you save.