MetLife Dentist – Goodlettsville, TN
Get the Most Out of Your MetLife Insurance
Dr. McClain is a MetLife dentist in Goodlettsville who is committed to providing affordable care to all patients. With a strong emphasis on preventive care, she encourages regular dental checkups and cleanings not only because they reduce the risk of future oral health problems but also because MetLife covers 80-100% of the total cost of these visits. Now that is something to smile about! To find out how you can save the most money when visiting our dental office, simply call us to schedule an appointment. We'll quickly work to establish ways you can use your dental insurance to improve your smile without emptying your wallet.
MetLife Coverage Availability & Fees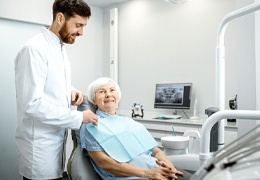 Unlike medical insurance, which serves as more of a reactive method of help, dental insurance is designed to prevent serious issues that require timely and costly treatment. Investing in a MetLife dental plan not only saves you big money, but it also serves as a safety net should a sudden problem occur that leaves you looking for an affordable solution.
As you review your policy, you'll discover that although the deductible, monthly premium, and annual maximum look different than other plans, many of the same benefits remain somewhat similar, such as:
80-100% preventive care
70-80% minor restorative care
50-70% major restorative care
Of course, the above-mentioned benefits are part of seeing a dentist who is in-network with your dental insurance company. Because Dr. McClain works closely with MetLife, she has pre-negotiated set fees and services that make it more affordable for you to undergo dental care at our office in Goodlettsville.
Cavities, gum disease, tooth decay, and facial trauma are never problems you want to incur; however, should one or more arise, you can count on your MetLife insurance and Dr. McClain to be on your side. We'll even go so far as to spread out your dental treatments across calendar years, if possible, to keep you from paying out-of-pocket if it appears you may go over your allotted annual maximum.