Teeth Whitening – Goodlettsville, TN
A Solution That's Easy to Use, Comfortable, and Effective!
Have your teeth begun to yellow? Instead of reaching for a store-bought whitening kit (which relies on diluted whitening agents and flimsy applicators), talk to our cosmetic dentist about our take-home teeth whitening options! In short, this popular treatment combines the power of in-office treatments with the convenience of over-the-counter products, allowing you to enjoy the best of both worlds. To learn if you're a candidate, how our take-home whitening kits work, and more, read on or schedule a consultation with our team!
Why Choose Goodlettsville Smiles For Teeth Whitening?
Talented Dentist Who Graduated at the Top of Her Class
Flexible Financing Available
Convenient Appointment Times Throughout the Week
Who Is a Good Candidate for Teeth Whitening?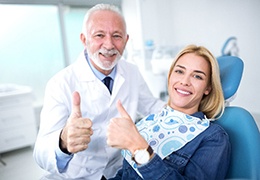 If stubborn stains have surfaced from coffee, wine, and tobacco use, then it's likely that you're a candidate for teeth whitening! Of course, the only way to find out for certain is by scheduling a consultation with our dedicated Goodlettsville cosmetic dentist, Dr. McClain. After learning more about your smile goals and conducting an oral exam, she will be able to determine whether or not teeth whitening is the best fit for you. Don't worry – even if something like tooth decay initially stands in your way, she can incorporate the right restorative care into your treatment plan so the final result is a smile that's as healthy as it is beautiful.
How Does Take-Home Teeth Whitening Work?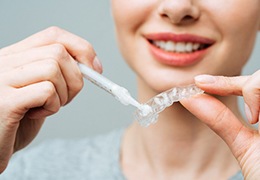 Good news: our take-home teeth whitening kits are easy to use, comfortable, and effective! First, we will provide you with everything you need, including a safe, powerful bleaching gel and custom-fitted trays. Before you leave our office, we will share how to use the products as well as how often you should wear the trays. Within a week or two, you will notice that your smile is visibly brighter. In fact, we can often lighten your teeth up to eight shades in that amount of time!
Tips for Maintaining Your Brighter Smile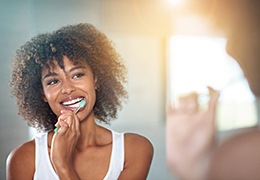 Unfortunately, the results of your teeth whitening treatment won't be permanent. There are, however, several steps you can take to keep your teeth nice and white for as long as possible, including:
Steering clear of dark-colored foods, like marinara sauce
Using a straw when drinking coffee, wine, and soda
Brushing your teeth after each meal
Getting a dental checkup and cleaning every six months
Avoiding smoking and other unhealthy dental habits
Visiting our team for touch-up treatments as needed
If you'd like to learn more about the teeth whitening process, then we encourage you to schedule an appointment with our team. From there, we can answer your questions, determine if you're a candidate, and put a treatment plan in place that will make your smile goals a reality!
Teeth Whitening FAQ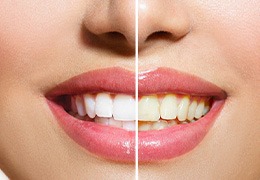 How Can I Make My Teeth Whitening Results Last?
Teeth whitening can last longer than you'd expect, anywhere from a few month to a few years depending on how well you care for your teeth afterward. The most important thing if you want your results to stick around is to brush your teeth thoroughly twice a day. You should also be sure to see us twice a year for checkups and cleanings.
You can make hygiene easier on yourself by limiting the among of foods you eat that can stain your teeth. Cutting back on coffee, red wine, soy sauce, tomato sauce, or dark berries can help keep your teeth white in the long run.
How Long Does Teeth Whitening Treatment Take?
We offer take-home teeth whitening to our patients, which is done on your schedule from the comfort of your home. These trays typically require a few weeks to see results, but once they do, your smile should be up to eight shades whiter.
If your teeth are significantly discolored, you may need a little bit more time. Given that this can vary, talk to us if you want to have your teeth ready before a given date.
Is Teeth Whitening Safe?
When we provide you with any kind of tooth whitening, we are well aware of what could cause complications and avoid these pitfalls completely. As a result, we can guarantee that any whitening treatment that you get from us will be completely safe.
Of course, the same can't be said for DIY whitening treatments, which are administered without any kind of professional supervision. There could be short- or long-term consequences of misusing the treatment, which means that you should leave the whitening to the professionals.
Does Teeth Whitening Hurt?
You might have heard that teeth whitening involves a little bit of sensitivity. While this can be the case when teeth whitening is overdone, we can customize the whitening treatment to you and the strength of your enamel. For that reason, we can promise that you'll be fairly comfortable after getting teeth whitening, with little-to-no sensitivity.