Dental Crowns – Goodlettsville, TN
A Beautiful Way to Restore Your Smile
As a prevention-based dentist in Goodlettsville, Dr. Deidra McClain works hard to keep your teeth in great condition and help you avoid problems such as cavities and fractures. But, despite our best efforts, sometimes teeth become damaged and need to be repaired or even extracted. In those cases, we provide outstanding restorative dentistry such as dental crowns to repair or replace your teeth when necessary. If your smile needs to be restored for any reason, give us a call to schedule a consultation to discuss restoration with dental crowns in Goodlettsville, TN. Dr. McCain will be more than happy to create the perfect treatment plan to help your smile look and feel fantastic.
Why Choose Goodlettsville Smiles for Dental Crowns?
We Use Strong, Beautiful Materials Like Zirconia And Ceramic
Custom-Made Restorations For Each Patient
Highly-Trained, Experienced Dentist With An Eye For Aesthetics
What Is a Dental Crown?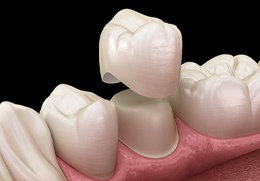 Crowns are sometimes called "caps" because they fit snugly over the entire visible portion of teeth. They're created to precisely match the size, shape, and color of your existing teeth so they look very natural, and they can be made of different materials such as porcelain, ceramic, and zirconia. Dr. McCain will evaluate your needs and cosmetic goals before recommending the best material for your crown.
The Dental Crown Process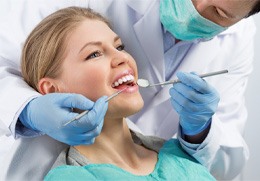 The process of getting your dental crown can usually be completed after multiple appointments. Firstly, we'll examine your oral situation to determine whether this treatment is a good option for you. We'll then discuss your smile goals as well as what you can expect throughout the process before proceeding. Once you've decided to undergo the treatment, we can begin to prepare your tooth for the crown by removing a small portion of your enamel. This will allow the restoration to fit seamlessly and securely with the rest of your smile.
Next, we'll take impressions and send them to a dental lab for fabrication. You'll need to wear a temporary crown while you wait for your final one, as we'll want to protect your exposed tooth. After about two weeks, your permanent restoration should be ready. You'll then return to our office so Dr. McCain can cement your dental crown in place, providing you with a well-fitted and beautiful new tooth!
The Benefits of Getting a Dental Crown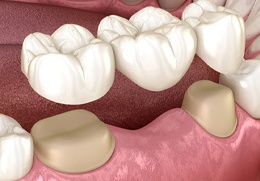 Whether you've had a severe cavity, fracture, or lost a tooth due to an accident or advanced gum disease, a dental crown is a long-lasting solution to restore the health and function of your smile. Every tooth is important for your overall oral health, and this restoration prevents other problems such as uneven wear, cavities, and gum problems. Here are several essential benefits that come with a dental crown:
Protects permanent teeth from needing extractions.
Boosts comfort and chewing power.
Custom-made to fit your exact bite specifications.
Can last 15 years or more with proper care.
Dental Crowns FAQs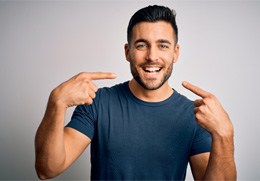 Are you looking to restore one or more severely damaged or decayed teeth? If so, then you might be considering getting dental crowns in Goodlettsville. While you can be sure to enjoy their various benefits, it's normal to want to know more about the treatment before proceeding with it. That's why our team at Goodlettsville Smiles is happy to share and answer the most commonly asked questions we get about dental crowns. Read along or give us a call if you wish to learn more about this treatment today!
Do Dental Crowns Feel Natural?
Thanks to the advancements in modern dentistry, your dental crowns should feel completely natural. Not only are they constructed out of durable materials like porcelain and zirconia, but their color can also seamlessly match the rest of your smile. This means they'll look like your permanent pearly whites and allow you to chew comfortably again. Since we'll thoroughly design your restorations for your specific smile, you might not even recognize which tooth has a crown on it.
Can Dental Crowns Get Cavities?
A dental crown will not be able to get cavities, as it will be made from non-porous materials like zirconia and porcelain. However, your natural tooth underneath the cap can still be susceptible to bacteria and infection. For this reason, you'll need to maintain good oral hygiene to protect both your restoration and the rest of your smile. The best ways to preserve your dental health are to brush twice a day, floss at least once daily, rinse with mouthwash often, and visit our team twice a year or more. This will keep your teeth and gums clean and safe from plaque and bacteria buildup in the long run. Make sure to also avoid poor oral habits like smoking as well as limit how often you consume sugary foods and drinks.
How Do You Know When a Dental Crown Needs to Be Replaced?
While dental crowns can last around 10 years with proper care, they'll still need to be replaced eventually. However, certain conditions may require you to get new ones sooner. Be sure to schedule a dental visit if you notice any discomfort, instability, wear and tear, and/or a dark line at their base. By getting your biannual checkup with us, we'll be able to assess your oral health and detect any issues with your teeth or dental crowns that'll need to be addressed before they worsen.
Is It a Dental Emergency If Your Crown Falls Off?
If your restoration falls off, make sure to get in touch with our office. It's fine if you aren't able to schedule a same-day appointment, but you'll want to protect your exposed natural tooth as soon as possible. Until you can see us, try to keep your dental crown in a safe place to avoid damaging it. You might also cover any sharp edges on your tooth with dental wax or sugar-free gum to protect your soft oral tissues. Try to chew on the opposite side of your mouth and stay away from hot/cold drinks and foods that can make your smile sensitive.