Root Canal Therapy – Goodlettsville, TN
The Solution to Severe Dental Pain
When bacteria is able to reach the interior of your tooth (called the dental pulp), it can become infected and cause quite a bit of pain. Why? Because this is where the nerve of the tooth is located! In the past, teeth with this kind of problem would just need to be removed. Thanks to advanced technology and modern techniques, Dr. McClain can save them with root canal therapy in Goodlettsville. Thanks to the many advancements in dentistry, this procedure is nothing like its reputation, and it's actually one of the best tools we have for relieving dental pain! Give our office a call or read on to learn more.
Why Choose Goodlettsville Smiles for Root Canal Therapy?
Provides Fast Pain-Relief In Just One Appointment
Can Save Severely Damaged Teeth From Extraction
Sedation Available To Ensure A Comfortable Experience
Do I Need Root Canal Therapy?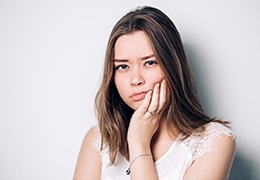 Not every toothache will require root canal therapy to relieve or treat it. This procedure is primarily performed on pearly whites that are either damaged, decayed, or even infected and can't be treated with less invasive options (i.e., tooth-colored fillings or dental crowns). This treatment may be necessary if you're struggling with a severe toothache that's gone for more than a day, pain when chewing, inflamed or visibly red gums, sensitivity to extreme temperatures, or a pimple-like bump on the gums near the affected tooth. Be sure to schedule an emergency appointment with your dentist as soon as possible if you notice any of these symptoms.
The Root Canal Process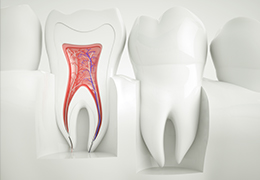 Contrary to popular belief, root canals are specifically designed to alleviate discomfort and save as much of the healthy tooth as possible. The process itself should also be pain-free, as our team will first completely numb your mouth with a local anesthetic before starting any work. This will ensure you remain comfortable and pain-free throughout your visit. We may also provide you with nitrous oxide sedation, which can both help you relax and lower your body's ability to register discomfort.
To begin the process, Dr. McClain will make a tiny hole in your enamel so that she can reach the pulp of your tooth and remove all infected tissues from inside. She'll then clean and disinfect the area to ensure it's free of any harmful bacteria before filling it up with a biocompatible material. Once filled, our team will likely cover the tooth with a dental crown to protect and strengthen it.
The Benefits of Getting a Root Canal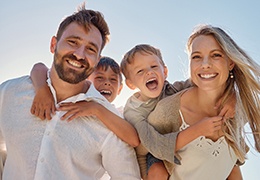 Root canal therapy is a completely safe and effective dental treatment that can help avoid more serious oral health complications in the future. Most patients typically expect to appreciate a variety of benefits with this procedure, including:
Virtually pain-free treatment: Unlike in the past, root canal therapy is painless, as the majority of patients find it no worse than getting a standard tooth filling.
Tooth preservation: Preserving your natural tooth instead of removing it can save you both time, money, and hassle from needing to replace it.
A healthy & pain-free smile: By cleaning out the damaged and infected particles that are causing discomfort, you'll be able to enjoy a comfortable and healthy smile again.