Root Canals – Goodlettsville, TN
The Solution to Severe Dental Pain
When bacteria is able to reach the interior of your tooth (called the dental pulp), it can become infected and cause quite a bit of pain. Why? Because this is where the nerve of the tooth is located! In the past, teeth with this kind of problem would just need to be removed, but now, Dr. McClain can save them with root canals in Goodlettsville, TN. Thanks to modern-dentistry, this procedure is nothing like its reputation, and it's actually one of the best tools we have for relieving dental pain!
Why Choose Goodlettsville Smiles for Root Canals?
Provides fast pain-relief in just one appointment
Can save severely damaged teeth from extraction
Sedation available to ensure a comfortable experience
How Does a Root Canal Actually Work?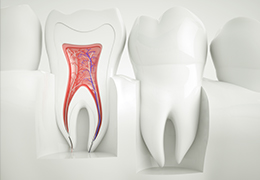 After determining that one of your teeth could benefit from a root canal, Dr. McClain will:
Numb the treatment area.
Place a small hole in the tooth to access the infected pulp.
Remove the tissue, clean the root canals, and sanitize everything.
Fill the tooth to provide internal support.
At a follow-up appointment, rebuild the enamel using a custom-made crown.
Afterward, a root canal treated tooth should look, feel, and function just like normal for many years to come. Most patients say that the procedure feels like getting a small filling!