Dental Bonding – Goodlettsville, TN
Erase Chips, Cracks, Stains, and More!
Our smiles play a key role in our everyday lives. Unfortunately, that means even just one or two minor dental imperfections can take a huge toll on our self confidence and quality of life. With dental bonding in Goodlettsville, Dr. Deidrea Harrison-McClain can practically erase a wide variety of dental flaws that may have you feeling self-conscious! Dental bonding is one of the quickest, most comfortable, and most affordable cosmetic treatments that can help you achieve a smile you can't wait to show off!
What Is Dental Bonding?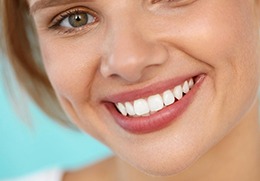 Dental bonding is a noninvasive procedure that can dramatically improve the appearance of one or more teeth in as little as an hour. This method utilizes a durable composite resin that is shaded to perfectly match the color of your natural teeth. Once applied, your Goodlettsville cosmetic dentist will carefully mold and sculpt the material over your dental blemishes until they disappear entirely. After the dental bonding has been hardened and polished, you can expect to enjoy the dazzling results for a decade or more with the proper care!
When Is Dental Bonding Recommended?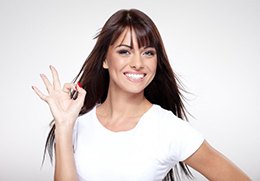 Since dental bonding is such a versatile treatment, Dr. McClain can use it to:
Cover up stubborn enamel stains
Repair teeth that are chipped or cracked
Close small gaps or spaces between teeth
Improve the shape of small or worn-down teeth
Protect the tooth roots if gums recede
While dental bonding is primarily used as a cosmetic service, tooth-colored resin can also correct cavities and replace amalgam fillings.
What Is the Dental Bonding Process Like?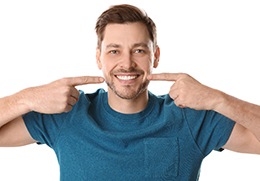 This popular cosmetic service is truly one of the fastest and most comfortable available. First, the surface of your tooth will be etched to make it rough and easier for the resin to bond to. Don't worry—this process is completely painless when performed by a highly trained Goodlettsville dentist like Dr. McClain.
Next, the composite resin is applied directly to your tooth. At first, dental bonding is putty-like so that it can be shaped and molded over the problematic area. Once the resin has been sculpted into the most esthetically pleasing shape, it's hardened into place with a specialized curing light. Lastly, it's smoothed and polished until it blends in seamlessly with the rest of your smile.
What Are the Benefits of Dental Bonding?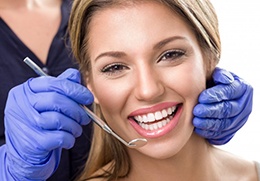 Dental bonding is a great way to erase chips, cracks, stains, and more. While there are a variety of excellent cosmetic treatments that can enhance the appearance of your pearly whites, dental bonding offers a few unique advantages, like:
Improving discoloration that teeth whitening can't: Dental bonding is the perfect choice for correcting stubborn stains and severe patches of discoloration that can't be lifted even with professional teeth whitening treatments.
Can be completed in a single office visit: Other cosmetic options like porcelain veneers and dental crowns typically take several weeks to be created, while dental bonding can improve your smile in as little as a single hour.
Minimally invasive and very comfortable: Dental bonding is a completely pain-free and minimally invasive procedure, which makes it one of the most comfortable options.
Preserves nearly all your enamel: While some enamel is removed to prepare your tooth for dental bonding, it preserves more natural tooth structure than porcelain veneers or dental crowns can.
Provides long-lasting, dazzling results: Even though the dental process is quick and easy, you can fully expect the beautiful results to last you a decade or more with the proper care.
Don't let small dental imperfections keep you from living your best life! Contact Goodlettsville Smiles today and start your journey towards the ideal smile you deserve.