BlueCross BlueShield Dentist – Goodlettsville, TN
Learn How BlueCross BlueShield Can Help You
Why do dentists stress regular dental checkups and cleanings? Although they enjoy seeing your smiling face each time you visit, that's not the reason. Instead, it is to catch signs of decay, cavities, and gum disease early on, so you don't face more extensive and costly treatments down the road. With a BlueCross BlueShield dentist in Goodlettsville, this process can be extremely affordable because of the pre-negotiated fees and services set between the insurance company and your dentist. As an in-network provider for BlueCross BlueShield, Dr. McClain is pleased to provide affordable care for all patients who are enrolled. Simply call us today to schedule an appointment!
BlueCross BlueShield Coverage Availability & Fees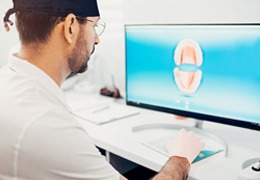 Monthly premiums, deductibles, annual maximums may all look different when you compare two Delta Dental insurance plans, but if you look at the available benefits, they might look something like the following:
80-100% preventive care (dental cleanings, regular checkups)
70-80% minor restorative services (dental fillings)
50-70% major restorative services (dental crowns, bridges, and implants)
25-75% for orthodontics (if elected)
These benefits can make a big difference when needing dental care. A dental crown or root canal shouldn't cause you to decide between your oral health and saving for your family's upcoming vacation. We know you want to take that trip, which is why as an in-network provider, we will work to get you the most savings from your BlueCross BlueShield plan.
And because your insurance carrier will look to see if you've first met your deductible as well as how much of your annual maximum remains before providing payment, we'll also work to keep any out-of-pocket expenses as low as possible. If we can, we'll even schedule part of your treatment in one calendar year and the remainder in the following year so you can avoid exceeding your allotted yearly maximum and paying a remaining balance.