Replace Missing Teeth – Goodlettsville, TN
Smile with Confidence Again
It's amazing the variety of problems that missing teeth can cause. In addition to making someone feel self-conscious about their appearance, they can also make simple things like chewing and even speaking feel awkward and uncomfortable. Whether you're missing one tooth or several, Dr. McClain has the solutions you need to enjoy a complete smile again. Give our dental office a call today, and she can get started designing your custom plan to replace missing teeth in Goodlettsville, TN that will renew your confidence and bite at the same time.
Why Choose Goodlettsville Smiles for Tooth Replacement?
Restorations custom-made for every patient
All-porcelain restorations available
All-inclusive dental implant care
What Happens If I Do Nothing?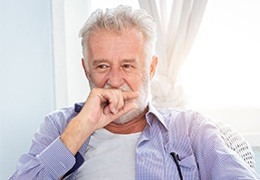 When a tooth goes missing, the jawbone in the area actually starts to slowly deteriorate, and this can quickly affect the surrounding teeth, causing them to gradually shift out of place and loosen. The exposed gum tissue is also much more likely to develop an infection, which can cause even more bone damage. Thankfully, simply replacing any missing teeth can stop this awful chain reaction from occurring while also restoring a patient's appearance and oral function.
Dental Bridges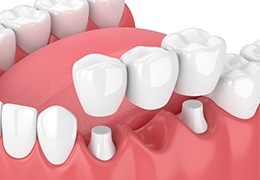 If you are missing one tooth or a few in a row, a dental bridge can do exactly what its name describes—bridge the gap. It works like this: two dental crowns are placed on the teeth on either side of the missing ones, and these serve as supports for the replacement teeth. They look natural, help the surrounding teeth stay in place, and make it much easier for a patient to chew their favorite foods.
Learn More About Dental Bridges
Dentures & Partial Dentures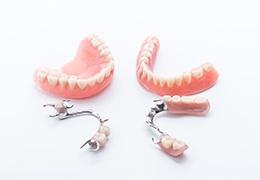 Dentures are a kind of prosthetic that can replace several missing teeth at the same time, and using the latest dental materials, Dr. McClain can provide patients with a denture that both looks and feels great for decades to come. If you still have some healthy teeth, she can give you a partial denture that fills in the gaps. Or, if you need an entire row of teeth restored, she can provide you with a specially-designed full denture.
Learn More About Dentures & Partials
Dental Implants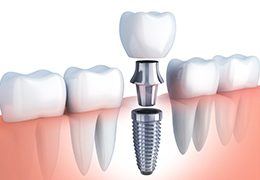 When you compare all other dental treatments to natural teeth, dental implants are the next best thing. They are the only treatment that replaces both the root and crown of a tooth, providing a lifelike appearance and security no other restoration can deliver. Using them, Dr. McClain can make it feel like your teeth never went missing in the first place, ensuring that the next time you speak with a friend or take a bite of food, the absolute last thing on your mind will be your teeth.