Implant Dentures – Goodlettsville, TN
Embrace Your Permanent Smile
According to the Centers for Disease Control and Prevention (CDC), an estimated 17% of adults over the age of 65 have lost all their teeth. This stunning reality means many individuals are now finding it a challenge to eat, speak, or even smile. Traditional dentures can (and do) offer some level of restoration but often leave much to be desired. Fortunately, Dr. McClain offers an alternative solution – implant dentures in Goodlettsville! Using titanium posts to create a foundation for your new teeth, you can embrace a permanent smile once again and start living a healthier, more fulfilling life. Contact us today to learn how you can receive implant dentures.
What Are Implant Dentures?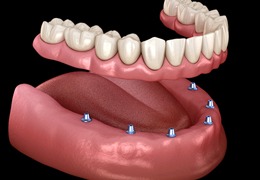 Unlike its traditional counterpart – dentures – that only sit on top of the gums and offer no stimulation to the jawbone, implant dentures require minor oral surgery to place each titanium post into a specific location of the bone.
Using advanced dental technology to carefully plan the placement, your implant dentist in Goodlettsville will create a smile that is far more stable, functional, natural in appearance, and all-around healthier than before.
During your consultation with Dr. McClain, she will go over the two types of dentures you can choose from:
Fixed/Permanent Implant Dentures
Known as a "hybrid" prosthesis, a fixed denture is often the preferred choice for those suffering from tooth loss. Requiring ample jawbone density, it may be necessary to undergo a bone graft before receiving dental implants to ensure a solid foundation for the 4-6 implant posts. Once in place, the prosthetic cannot be removed except by a skilled implant dentist.
Removable Implant Dentures
Referred to as a "Snap-On denture," the removable prosthetic used in this situation is only held into place using 2-5 dental implants. This means the jawbone does not need as much density, and the denture can be easily taken out at night for cleaning purposes. Also, the teeth are held in place using a bar- or ball-retained device, making the denture easy to insert and remove.
The Implant Denture Process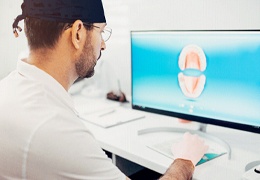 One of the greatest aspects of undergoing dental implant placement with Dr. McClain is that the entire procedure is performed in-house, under one roof. There are no referrals needed but instead, you can remain with the same trusted team throughout treatment.
After a thorough consultation with your implant dentist, you will be scheduled for surgery. We will make a few small incisions in the gums before carefully placing each implant post. You will receive anesthesia beforehand, so you do not need to worry about feeling any pain. Once each post is in place, we will close the flap of tissue and place a protective healing cap over the area.
You will then be instructed to spend the next 3-6 months recovering at home, allowing the bone and implants to fuse in a process known as osseointegration. Once your mouth is fully healed, you'll return to receive your final denture that will be secured into place.
Am I a Candidate for Implant Dentures?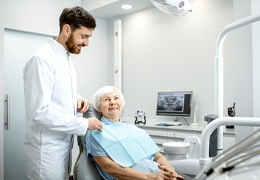 Individuals who are considering implant dentures will need to schedule a consultation with Dr. McClain. You'll be pleased to learn that most adults can expect to experience the benefits of living with dental implants, but it is necessary to survey the level of density within the jawbone as well as determine if treatment for gum disease is required beforehand.
Should you need a bone graft or periodontal therapy before moving forward, you can expect our team to provide these services, ensuring greater success for your future implant placement.
Benefits of Combining Dentures & Dental Implants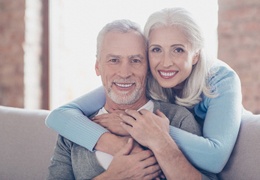 What was once deemed a dream scenario is now a reality with implant dentures. Combining traditional prosthetics with dental implants in Goodlettsville allows for incredible benefits, some of which include:
The ability to eat your favorite foods without worrying about your teeth slipping or falling out.
Greater bite force and chewing power, so even harder foods are easier to consume.
A more natural appearance because of how dental implants are placed.
Continuous jawbone stimulation that keeps facial features looking youthful and more vibrant.
Improved oral and overall health because of the lowered risk of systemic issues commonly caused by tooth loss.
Greater confidence that allows for a better quality of life.
Prosthetics that can last 30+ years with regular care and maintenance.