Dental Implants – Goodlettsville, TN
A Complete Solution for Missing Teeth
Missing teeth are a problem that about 180 million Americans have to deal with every day, but that number is quickly shrinking thanks to dental implants. It is the only solution that replaces an entire tooth both above and below the gum line, giving patients a strong and lifelike result they can trust for decades to come. If you're ready to have a full smile again, dental implants are the best way to get it back, and Dr. McClain is ready to provide everything you need to replace missing teeth with dental implants in Goodlettsville, TN.
Why Choose Goodlettsville Smiles for Dental Implants?
Placement & restoration provided in one location
Able to replace any number of teeth for a lifetime
Restorations specially-made for every patient
Benefits of Dental Implants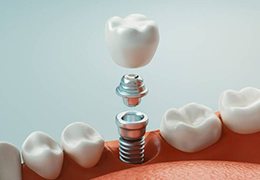 More Function: Most restorations only bring back the upper portion of a tooth, the crown, which makes them inherently less stable than natural teeth and more likely to wear down over time. Because implants also bring back the root and are set within the strong jawbone, they can be trusted to stay in place no matter what a patient is eating.
Better Aesthetics: No other treatment looks more natural than a dental implant! They sit within the jawbone just like real teeth, they are topped with custom-made porcelain restorations, and they don't have any metal or acrylic attachments that make them stick out in the smile. With them, only you and Dr. McClain will know which teeth aren't your own.
Unmatched Longevity: Dental implants actually stimulate the jawbone and enable it to stay full and healthy as the years go by. Other treatments can't do this, allowing the jaw to slowly atrophy. Because implants stop this breakdown, they're able to last much longer than other solutions, often for the rest of a patient's life.
Learn More About the Benefits of Dental Implants
Indications for Dental Implants
Dental implants are actually quite versatile, so no matter how many teeth you might be missing, Dr. McClain can use them to help you:
Missing One Tooth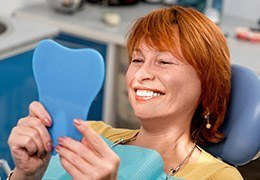 A single implant root can be placed directly between two healthy teeth and topped with a crown without disturbing them, making a lone gap in the smile disappear.
Missing Multiple Teeth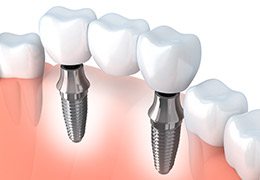 If you have more than one missing tooth in a row, you won't need individual implants to replace them. Rather, just two implant roots can support a bridge, holding up to four teeth at the same time. By comparison, they are much stronger than a traditional dental bridge.
Missing All of Your Teeth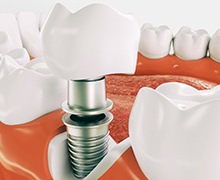 With just four to six implants, Dr. McClain can give you a full denture that is much, much more stable than any removable prosthetic. Because of this, patients are able to eat a much wider array of foods with ease, often improving their overall health.
Start to Finish Convenience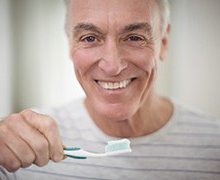 Dr. McClain has undergone special advanced training in order to perform the entire dental implant procedure, including the surgical placement of the new roots. Unlike other dental offices, we won't send you to an outside specialist for the initial part of the procedure, which will help you save time and money while getting the treatment you need. From your first consultation all the way to when you walk out of our dental office with your renewed smile, you'll be able to work with the same dentist and team that you trust.
Understanding the Cost of Dental Implants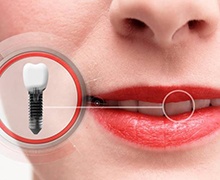 There is no set cost for the dental implant procedure because as we touched on above, they can be used to replace varying numbers of teeth depending on a patient's particular situation. While it's true that implant restorations tend to be more expensive than other traditional options, they're often able to last for 30 years or more. As a result, patients are able to avoid the periodic maintenance and retreatment regular bridges and dentures require, which can add up to thousands in savings. Read on to learn more about the cost of your dental implants in Goodlettsville.
Preliminary Treatments & Dental Implant Surgery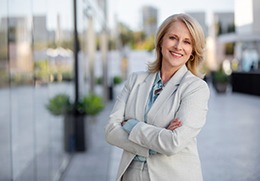 Preexisting dental issues like gum disease and any necessary tooth extractions must be treated before getting dental implants, which can add to the cost of your procedure. A healthy mouth makes it more likely for your dental implants to last. Next, your implant surgery incurs a specific cost, which can vary based on necessary anesthesia during treatment. One of the benefits of implant placement and restoration with Dr. McClain is that you'll have more convenient, compact fees from a single office instead of keeping track of multiple payments.
The Parts of Your Dental Implant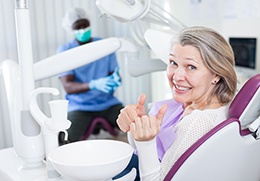 One of the main factors of your implant cost is the number of implants that you need. Dental implants can be made of various materials like titanium and zirconia that come from different brands/manufacturers. Just like cars, some are better than others, which means the cheaper option isn't always the best. Our patients deserve the highest quality restorations, which is why we will always be transparent about the types of dental implants we use and the fees that come with them.
Final Dental Implant Restoration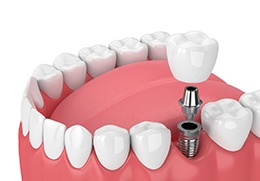 We provide different restorations based on your specific pattern of tooth loss. Are you missing a single tooth? We can mount a custom-made dental crown on top of a single implant. For those missing multiple teeth consecutively, implants can support a strong dental bridge. Lastly, if you're missing all or most of your teeth, we can provide a full smile replacement with implant dentures.
Does My Dental Insurance Cover Dental Implants?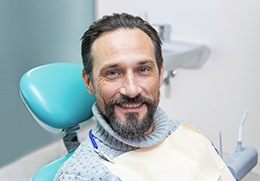 Typically, dental insurance does not cover dental implants, however there are some exceptions. In some cases, your insurance provider may cover certain aspects of the treatment like your consultation or correcting preexisting issues like gum disease, but this will vary from plan to plan. Our friendly front desk staff uses their years of experience in working with insurance to maximize your benefits for lower out-of-pocket costs.
Making Dental Implants Affordable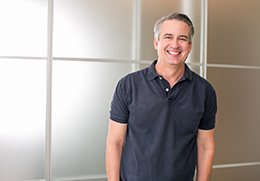 We proudly offer cost-effective dentistry, which is why we have alternative financing through CareCredit. Patients can access low-to-no interest financing plans with fair, monthly fees. Whether you have insurance coverage, or you're on your own, we want to make our dental implants accessible for all budgets. If you have any questions, please don't hesitate to contact our office!
Frequently Asked Questions – Dental Implants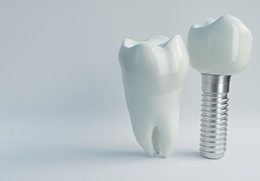 By choosing to replace your lost teeth with dental implants in Goodlettsville, you're making the best possible investment in your smile. Although dental implants are often considered the gold standard for tooth replacement, you probably still have some questions that need to be answered before you commit to this treatment. Dr. McClain will take the time to address all of your concerns during your consultation. In the meantime, we invite you to read through this list of frequently asked dental implant questions.
Are Dental Implants Right for Me?
While dental implants are a wonderful tooth replacement option, it's not right for everyone. For example, if your jawbone has lost density (which is common after tooth loss), then it may not be strong enough to adequately support dental implants. However, a bone graft may be enough to remedy this issue. Also, you must have generally good oral health in order to be eligible for dental implants. At your consultation, your dentist in Goodlettsville can discuss all of these factors to determine whether you make a good dental implant candidate.
Can Dental Implants Replace Front Teeth?
Definitely! Dental implants can replace missing teeth no matter where in the mouth they were located. Plus, the restoration that goes over the implants will be custom-made to mimic the pearly whites you were born with. Unless you go around telling people, no one should even be able to tell that they're not your natural teeth!
Does Dental Insurance Cover the Cost of Dental Implants?
In many cases, dental insurance will not pay for the implants themselves. However, they will likely mitigate the cost of some other portion of the treatment, such as your restoration. We will work with your insurance company to maximize the benefits you qualify for. We even offer in-network savings with many popular dental insurance plans, including Delta Dental, Cigna, and MetLife.
Additionally, we can help you break up the cost of your treatment via CareCredit. This company has multiple plans you can choose from that can all fit into your budget. Most of them even come with little or zero interest!
How Long Does the Dental Implant Process Take?
The answer to this question varies from patient to patient, but for most people, getting dental implants takes anywhere from a few months to a year. Preparatory work, such as bone grafting, can lengthen that period by several more months. The reason it takes so long is that osseointegration (the process during which the implants fuse to your jawbone and surrounding tissues) can take three to six months to complete. Only when osseointegration is finished can we place your final crown, bridge, or denture.