Preventive Dentistry – Goodlettsville, TN
Keeping Local Smiles Beautiful
A little prevention goes a long way, and that's especially true when it comes to dental care! Dr. McClain believes that the best way to treat a dental problem is to stop it before it develops in the first place, and she can do exactly that using all of the services detailed below. If it's been more than six months since you or your child's last checkup and cleaning, give us a call today, so we can help everyone in your home stay cavity-free with preventive dentistry in Goodlettsville, TN!
Why Choose Goodlettsville Smiles for Preventive Dentistry?
Happy to serve the entire family
Sedation available for anxious patients
Stop snoring & sleep apnea with a custom-made oral appliance
Dental Checkups & Teeth Cleanings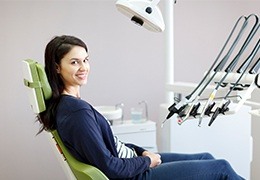 When you come in for a checkup and cleaning, we'll use it as an opportunity to get to know both you and your dental needs. Our approach is to always personalize each patient's care in order to ensure the best results and experience. We'll take a look at your teeth and gums, and then you'll receive a refreshing cleaning that will remove any harmful plaque and tartar. At the end of your appointment, Dr. McClain will discuss any small issues that she can fix right away.
Learn More About Dental Checkups and Cleanings
Dental Sealants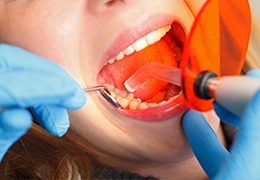 When it comes to childhood dental problems, cavities are by far the most common. In most cases, they involve the back teeth, as their deep grooves can be difficult to properly clean by little hands that are still learning to brush. To help growing smiles stay healthy, we can apply a dental sealant, which consists of a thin layer of a clear plastic resin, to the back teeth. They're practically invisible and can provide up to a decade of round-the-clock cavity protection.
Nightguards for Bruxism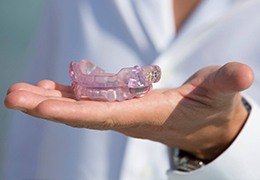 For many, the daily stress of work and family leads them to unconsciously grind their teeth while they sleep, slowly wearing them down in the process. This can make the teeth appear short and flat and eventually lead to painful cracks! Thankfully, a nightguard is an easy fix. This is a custom-fitted mouthguard a patient only wears to bed, and it places a thin barrier between the teeth to stop any damaging grinding.
Mouthguards/ Sportsguards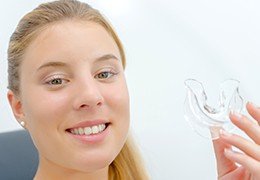 Many, many of the dental injuries we treat stem from collisions while playing sports. By wearing a protective mouthguard every time they hit the field, mat, or court, athletes both young and young at heart can keep their smile in one piece as they go for glory. We can provide a custom-made mouthguard specially-designed to fit an individual's unique smile, meaning it will be more comfortable and provide much more protection than your typical generic sportsguard from the store.
Oral Cancer Screenings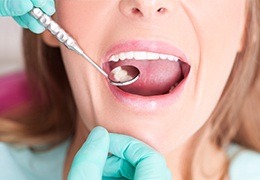 Oral cancer costs thousands of people their lives every single year, and this is mostly because the disease can be very hard to notice until it is quite advanced, leading many to seek out treatment way too late. To make sure this doesn't happen to our patients, we always perform an oral cancer screening at every checkup. If we spot any suspicious growths or sores, we can help a patient get the follow-up care they need right away.
Fluoride Treatments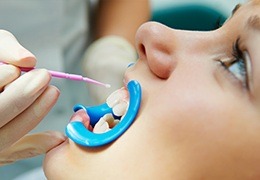 Fluoride is nature's gift to your smile! When exposed to the teeth, whether through foods, toothpaste, or fluoridated water, it literally strengthens the enamel and makes it more resistant to decay. To give our patients another weapon in the fight against cavities, we can apply a fluoride varnish directly to the teeth for just a minute or so. It's an effective treatment for both children and adults alike, and patients can get one whenever they come to see us for a checkup.
At-Home Oral Hygiene Products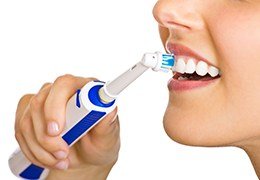 Most of your dental care actually happens at home with daily brushing and flossing, so the products you use every day have a HUGE impact on your long-term oral health. Are you sure that you and your family are using the right ones for each person's smile? We can let you know at your next checkup. And, for those with persistent dental problems, we can also provide certain prescription strength products that you won't find on store shelves!
Children's Dentistry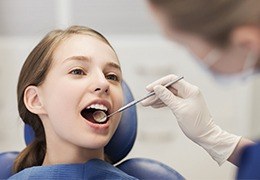 One of our favorite things to do is treat children! We love the energy they bring to the dental office, and nothing is more rewarding than teaching them the basics of oral hygiene so they can take care of their teeth at home. When your little (or not so little) one comes to see us, we'll examine their teeth and gums to make sure everything is developing properly, and then we'll provide a multitude of treatments to ensure they won't develop cavities between appointments.
Gum Disease Therapy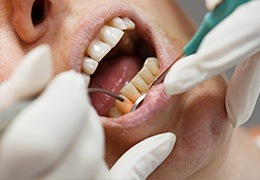 Did you know that your gums matter just as much as your teeth when it comes to your oral health? Without consistent brushing and flossing, they can actually develop a bacterial infection that can lead to redness, swelling, sensitivity, and ultimately…tooth loss! We screen our patients for gum disease every time they come to see us, and if we spot anything, we can provide a deep cleaning that is specially designed to target and eliminate troublesome bacteria.
Oral Conscious Sedation Dentistry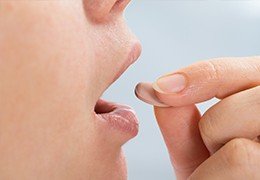 As experienced dental professionals, we're experts at helping our more anxious patients feel at ease. If our friendly and warm demeanor isn't enough to help someone relax, we can also use oral conscious sedation. A patient will simply take a pill we prescribe them about an hour before their appointment, so while they're actually in the chair, they'll be deeply relaxed both mentally and physically. Patients stay awake the entire time, but most report that their visit seemed to fly by, and many have little to no memory of it afterward!
Family Dentistry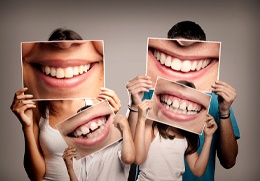 Driving all over town so you and your family can make it to different appointments can be exhausting. Why not save yourself time and money (on gas) and make the choice to see a family dentist in Goodlettsville who offers comprehensive services for everyone you love. From the youngest member of your family to the oldest, Dr. McClain is ready to help you achieve a beautiful, healthy, longer-lasting smile.