Advanced Dental Services & Technology Goodlettsville, TN
Thanks to the latest technology, appointments at Goodlettsville Smiles are more interactive than ever, and dare we say…fun! Dr. McClain has spared no expense in making sure that our facility always has the latest tools, and with them, she's able to treat patients more efficiently and keep them more informed while she does it, leading to shorter, stress-free appointments. You'll be amazed at how easy going to the dentist can be using our state-of-the-art approach! To schedule an appointment, contact us today.
Intraoral Camera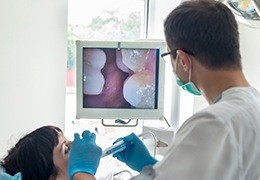 With our intraoral camera, you'll be able to see your smile in more detail than ever before. A high-resolution camera sits on the end of a small wand, and with it, our team can capture close-up images of your teeth and gums that can be quickly displayed on a chairside monitor. Serving as visual aids, we can use them to talk about the state of your dental health and point out any problem areas that require additional treatment, making appointments much more transparent and easy to understand.
Digital X-Rays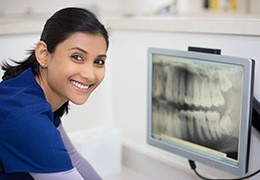 Many oral health problems start beneath the surface of the smile, and to make sure we're able to catch them early, we use X-rays every day in our dental office. We only use digital X-rays because they are much faster, sharper, and convenient compared to traditional film. They only take a few seconds to develop, and they even emit up to 90% LESS radiation as well! Plus, these images are very easy to store, meaning we can quickly look at past ones to see how your smile is changing over time, enabling us to spot overarching trends that might be missed in a single appointment.