Tooth Extractions – Goodlettsville, TN
Pain-Free Extractions
The overwhelming majority of the time, our team is able to save even the most damaged teeth, but we're not miracle workers! If the situation calls for it, our patients can trust us to provide safe, effective, and most of all, comfortable tooth extractions in Goodlettsville, TN. While it's never our first choice, it's an option that enables us to quickly get patients out of pain and replace their problem tooth with a much more reliable restoration, such as a dental implant.
Why Choose Goodlettsville Smiles for Tooth Extractions?
Patient comfort is priority #1
Dental sedation available
Wisdom tooth extractions performed in-house
Why You Might Need a Tooth Extraction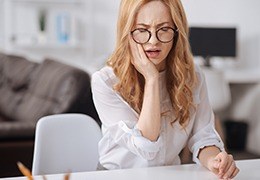 We will only recommend that you get a tooth extraction if:
You have a cavity that is too large to be repaired with a filling or crown.
One of your teeth is so broken that it cannot be put back together.
The supporting bone for a tooth has been damaged by gum disease.
Room needs to be created in the mouth for a denture/orthodontic treatment
We can also perform gentle extractions for children if one of their baby teeth is blocking an erupting adult tooth.