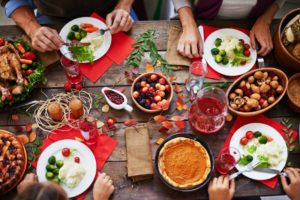 The holidays just wouldn't be the same without the multitude of sweet and savory goodies that come along with them. While many of these starch and sugar-filled foods are traditional favorites, it's important to be mindful of how you're also protecting your teeth while indulging in them. Not to worry, though, among the risky holiday foods, there are also plenty of options that are much more smile friendly. Keep reading to learn what your Goodlettsville dentist has to share about the top five best and worst options for your smile.
The Five Best and Worst Holiday Foods for Your Teeth
When you think of holiday foods, you likely think of sweets and starches. But did you know there are also other commonly consumed foods that are much more smile-safe that you probably also consume throughout the holiday season:
Holiday Food: Foe or Friend?
While you shouldn't feel like you can't enjoy your favorite treats during the holidays, here are five popular options you might want to be mindful of:
Candy Canes: Sucking on this decorative holiday candy can increase the exposure of sugar on your teeth. This can lead to cavities if not properly rinsed off.
Ice Cubes: While your teeth are very strong, they're not invincible, and biting down repeatedly on hard ice cubes can cause them to chip or break.
Hot Chocolate: If you're like many others, you may like to drop a few marshmallows into the mix, but beware, this sugary drink can wreak havoc on your teeth if you're not cleaning them soon afterwards.
Alcoholic Beverages: Many alcoholic beverages that you might enjoy around the holidays like wines or mixed drinks are often high in sugar and acid. While the acid deteriorates the enamel, the sugar promotes decay.
Holiday Pies: Be careful of the sugar and starch in the fillings and crust. Over time, it can cause plaque build-up, which can lead to tooth decay or gum disease.
All hope is not lost, though! Below are five other holiday favorites that you probably see a lot during the winter months that will be much friendlier to your smile:
Cheese: Cheese boards are a popular snack and appetizer that many families enjoy over the holidays. Low in sugar and high in calcium, cheese promotes stronger teeth without posing a risk to oral health.
Nuts: Another popular holiday gift and snack is mixed nuts. They contain an array of nutrients and can actually aid in plaque removal. Be careful, though, for sweet mixes with added sugar.
Vegetable Trays: Got the munchies while waiting for holiday dinner? Opt for a vegetable tray instead of another handful of candy. The fiber will help clean your teeth and keep you from feeling too hungry.
Meat: It's always better to grab a second slice of ham or turkey rather then another helping of stuffing. Protein is starch free and will sustain you longer, which can also curb excessive snacking.
Sugar-Free Candy or Gum: Before stuffing your family's stocking with sugary candy and bubble gum, consider throwing in a few sugar-free options as well. There are plenty that taste just as good and won't pose a risk to their pearly whites.
Regardless of what treats you like to enjoy during the holidays, you're likely eating more than you typically do. Make sure to keep up a regular hygiene routine in the midst of it all so that you can continue to maintain oral health all year long.
About the Author
Dr. Deidra Harrison-McClain is passionate about educating her patients on the importance of oral health so that they can continue to keep their smiles looking beautiful. She also strives to make sure that everyone who walks through her door feels comfortable and at home in her office. As the top of her class in continuing education, she has the skills as expertise to provide the highest quality of care. Is your smile in good shape for the holidays? Schedule a consultation online or call (615) 859-0188.