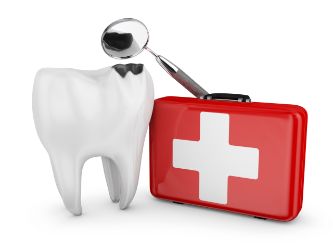 Dental emergencies are impossible to predict, so it's helpful to know a good emergency dentist in Goodlettsville before you're in pain. Knowing who to call for high-quality care is one of the best ways to prepare for the unexpected and prevent a lot of stress (especially during COVID-19). So how should you start your search? Spend some time looking through a dentist's website. If they offer the 5 things below, you can be confident that they'll get you out of pain fast while also protecting your oral health. Although you can't always avoid emergencies, you can at least have peace of mind from knowing a good emergency dentist!

1. Same Day Appointments
When you or a family member needs immediate care, the last thing you want to hear is that you'll have to wait. Especially since some emergencies like knocked-out teeth are "time-sensitive" and can be treated more successfully when you're seen right away. By making sure an emergency dentist offers same day appointments, you'll know that you'll have access to care when you need it.
2. Sedation Options
Sedation dentistry such as nitrous oxide ("laughing gas") and oral conscious sedation allow even phobic patients to get care they need without fear or anxiety. And when you're dealing with a painful emergency, knowing that you can get sedation if you want it will greatly reduce your stress levels.
3. Advanced Technology
Recent advances in dentistry have made it more comfortable and efficient than ever. And when you need emergency care, that's a big plus! Look for updated equipment and technology like digital X-rays, which are not only more comfortable but also use up to 90% less radiation and provide superior images. Another example is an intraoral camera which allows a dentist in Goodlettsville to take up-close photographs of your teeth and gums so you can easily understand your treatment needs.
4. Comprehensive Dental Care
By seeing an emergency dentist who offers a wide variety of services, you won't have to go to another office for specialized treatment. For example, if you need an extraction and a dental implant, you'll appreciate being able to stay with a dentist you know and trust and getting all the care you need under one roof.
5. 5-Star Reviews
Nowadays, online reviews are an excellent way to see what kind of care a dentist provides. And when an office has a lot of 5-star reviews, you'll know their patients have had a great experience and that you will too.
Dental emergencies are sudden, unexpected and stressful. By taking the time to find a great emergency dentist beforehand, you'll know you and your family will be taken care of when you need it most.
About the Author
Dr. Deidra Harrison-McClain is a general and emergency dentist in Goodlettsville who knows how important high-quality dental care is for your family, especially during COVID-19. Her office is open for emergencies right now, and she has the training, experience and technology to relieve pain fast and help her patients move forward with a healthy smile. If you're having a dental emergency or have any questions, she can be reached via her website.