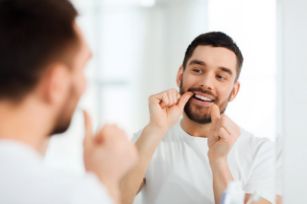 Since the COVID-19 crisis began and stay-at-home orders were put in place, people have been trying to minimize their trips to the store as much as possible. One way to do that is to conserve everyday commodities, including your oral hygiene products! But if you've ever seen a toothpaste commercial, you know that they cover the entire toothbrush. The question is: Would a dentist in Goodlettsville actually recommend using that much, or could you get away with less? And what about floss, mouthwash and even replacing your toothbrush? Keep reading to learn how to use these products wisely to maintain a healthy smile while cutting down on your trips to the store.

Toothbrushes
A toothbrush is more effective when it's replaced regularly. So while you won't technically "run out" of toothbrushes since they're reusable, it's still helpful to know when to use a new one.
Generally speaking, you should get a new toothbrush about every 4 months, or sooner if the bristles are frayed or begin to splay out. During COVID-19, it certainly wouldn't hurt to buy a couple of extra toothbrushes to keep on hand.
Mouthwash
Although it's not a substitute for brushing and flossing, mouthwash can be helpful because it can get into the hard-to-reach areas that are otherwise hard to clean. Depending on the formula you use, mouthwash can prevent cavities, improve your gum health, freshen your breath, or provide all those benefits at once. Most products have a fill-line in the cap to make it easy to use the right amount. Otherwise, use about 2/3 of an ounce.
Toothpaste
Though the physical scrubbing action of your toothbrush bristles does most of the cleaning, toothpaste is still important. It not only contains sudsing agents and breath-freshening ingredients but also fluoride for preventing cavities.
And you'll probably be surprised at how little is actually necessary. For kids under 3, a dentist will recommend no more than a light smear or a rice-sized dab of toothpaste. Kids older than 3 and adults only need a small, pea-sized amount.
Floss
The main concern with the right amount of floss is that it allows you to use a clean piece between each pair of teeth. This helps you avoid the transfer of cavity-causing plaque and bacteria from one area of your mouth to another. The general guideline for this is about 18 inches.
By conserving your oral hygiene products during COVID-19, you'll have all the tools you need to keep your teeth and gums in great shape. Not to mention that you'll minimize your trips to the store at the same time!
About the Author
As a family dentist in Goodlettsville, Dr. Deidra Harrison-McClain is dedicated to helping her patients get through COVID-19 with good oral health. In addition to being open for emergency care, she's also happy to provide oral hygiene tips to minimize cavities and other problems. If you want to know more about your dental health or have any other questions, she can be reached via her website.