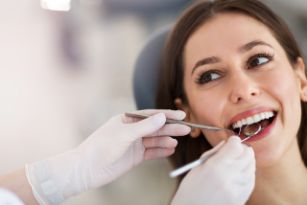 Modern life is busier than ever, and it's easy to put the needs of your family or job before your own. But when you invest in feeling good about yourself, that one positive change has a "ripple effect" that enhances every area of your life. And if you've always wanted to improve the appearance of your teeth, 2020 is a great time to do it. Regardless of the type of flaws you're trying to correct, a cosmetic dentist can help! Keep reading to learn about 4 great reasons to make yourself a priority in the new year and how enhancing your smile has the power to change your life.
1. You'll Change the Way Others See You
Countless studies have been done on the benefits of having an attractive smile. Time and time again, there's strong evidence that it makes others see you as more attractive, intelligent, and likable. And who wouldn't benefit from that?!
2. Cosmetic Dentistry Is Fast, Easy, and Reliable
Cosmetic dentistry has come a long way over the last couple of decades and you would be surprised at how quickly you can get results. In fact, most procedures can be completed in just 1 to 2 visits. And with the help of an experienced cosmetic dentist, you can count on ending up with a healthy smile that looks fantastic.
3. You'll Have a Lot More Self-Confidence
If you don't like the way your teeth look, you may find yourself covering your mouth when you smile or even avoiding it altogether. That has a big impact on how you carry yourself in the world. Investing in your appearance with cosmetic dentistry is a great way to improve your self-confidence so you can navigate everyday situations with ease.
4. Your Personal and Professional Life Will Improve

First dates, job interviews and meetings with clients are just a few examples of social situations where you want to put your best foot forward. But that's hard to do when you feel self-conscious or embarrassed about your appearance. By enhancing your smile, you'll not only look good but also feel good as well, which is bound to improve your personal and professional life in many ways.
No matter who you are, you deserve to do something great for yourself in the new year. And in just a matter of days or weeks, a cosmetic dentist can help you enjoy the many benefits of a beautiful smile right away.
About the Author
Dr. Deidra Harrison-McClain is a general and cosmetic dentist Goodlettsville who knows that dentistry isn't a one-size-fits-all approach. She offers a wide variety of cosmetic procedures to fit everyone's needs and works closely with every patient to create the perfect treatment plan for their needs. If you'd like to enhance your smile in the new year or have any questions, she can be reached via her website.