Dental Crowns And Bridges – Goodlettsville, TN
Two Beautiful Ways To Restore Your Smile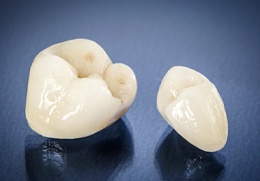 As a prevention-based dentist in Goodlettsville, Dr. Deidra McClain works hard to keep your teeth in great condition and help you avoid problems such as cavities and fractures. But, despite our best efforts, sometimes teeth become damaged and need to be repaired or even extracted. In those cases, we provide outstanding restorative dentistry such as dental crowns and bridges to repair or replace your teeth when necessary. If your smile needs to be restored for any reason, give us a call to schedule a consultation to discuss restoration with dental crowns and bridges in Goodlettsville, TN. Regardless of the type of dental work you need, Dr. McCain will create the perfect treatment plan to help your smile look and feel fantastic.
Why Choose Goodlettsville Smiles For Dental Crowns and Bridges?
We Use Strong, Beautiful Materials Such As Porcelain and Ceramic
Custom-Made Restorations For Each Patient
Highly-Trained, Experienced Dentist With An Eye For Aesthetics
What Are Dental Crowns?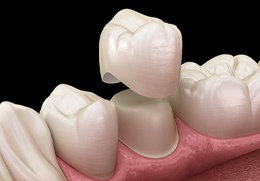 Crowns are sometimes called "caps" because they fit snugly over the entire visible portion of teeth. They're created to precisely match the size, shape, and color of your existing teeth so they look very natural, and they can be made of different materials such as porcelain, ceramic, gold, and zirconia. Dr. McCain will evaluate your needs and cosmetic goals before recommending the best material for your crown.
Dental crowns in Goodlettsville are done in two visits. Here's how it works:
We'll begin by numbing the area with local anesthetic. Then we'll prep your tooth by reducing it in size to create room for the crown. This ensures that it won't look or feel bulky.
Next, we'll take impressions to send to the dental lab where your permanent crown will be custom-made to our exact specifications.
Then we'll place a temporary crown on your tooth that you'll use for 1-2 weeks until your permanent crown is made.
Finally, you'll come back a second time to have your new crown permanently cemented into place. Dr. McCain will make sure it fits great and will make any last-minute adjustments as necessary.
What Is a Dental Bridge?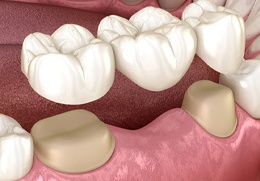 Also called a fixed bridge, this restoration is designed to replace a missing tooth (or teeth) and is non-removable. By using the two healthy teeth on either side as support for prosthetic teeth in the middle, we can "bridge" the gap that's created after tooth loss. After putting dental crowns on these two teeth, we'll fuse the replacement teeth to them to provide a well-supported restoration that gives you the function and appearance of a complete smile. Similar to the process of getting a dental crown, bridges are custom-made in a dental lab and are usually completed in two visits.
The Benefits of Dental Crowns and Bridges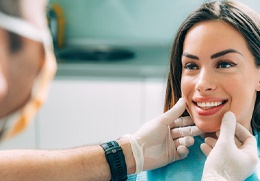 Whether you've had a severe cavity or fracture or have lost a tooth due to an accident or advanced gum disease, dental crowns and bridges are a long-lasting solution to restore the health and function of your smile. Each and every tooth is important for your overall oral health, and a crown or bridge prevents other problems down the road such as TMJ dysfunction, movement of other teeth, uneven wear, and cavities and gum problems. Not to mention that having a full smile is important for your overall appearance and self-confidence.