Dentures – Goodlettsville, TN
Rebuild Your Smile with Realistic Prosthetics
When you have significant gaps in your smile due to missing teeth, everyday tasks like eating and speaking can become difficult. At Goodlettsville Smiles, we believe that no matter how many natural teeth you've lost, you deserve to have a complete set of pearly whites you can be proud of. That's why we offer full, partial, and implant-retained dentures to help rebuild your smile after any degree of tooth loss. To learn more about dentures in Goodlettsville and how they can benefit you, keep reading below, or pick up the phone and call us!
Why Choose Goodlettsville Smiles for Dentures?
Restorations Custom-Made for Every Patient
Enjoy Your Favorite Foods Again
Implant-Retained Dentures Placed In-House
Types of Dentures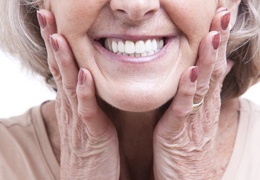 Dentures come in three main varieties. Depending on your individual needs, Dr. McClain may suggest one of the following:
Full Dentures
Designed to replace the entire top or bottom arch of teeth, a full denture consists of a set of artificial teeth anchored to an acrylic base the same color as your gum tissue. This base sits on top of the gums with natural suction or a bit of denture adhesive for additional security.
Partial Dentures
Partials are made to fit within your existing smile like a missing puzzle piece. Made of a metal framework that sits behind your natural teeth, the artificial teeth attached to it are designed to resemble your remaining pearly whites.
Implant-Retained Dentures
Four to eight dental implants per jaw can hold a full or partial denture in place, creating a more stable and long-lasting fit than a traditional denture alone. The added security restores much more biting power, allowing you to enjoy your favorite chewy and crunchy foods with greater ease.
The Process of Getting Dentures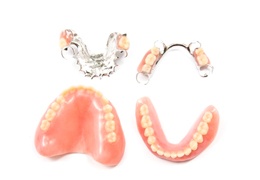 After Dr. McClain has determined that you're a good candidate for dentures, the process starts with any needed preparatory treatments, like gum disease therapy or tooth extractions. Then, impressions of your gums and any remaining teeth are taken to design a mold of your denture. You'll try on the mold and we'll adjust it as needed until it's a perfect fit. We'll send it to a dental lab, where your new teeth are cast. In a few weeks, you'll return to our office to have your denture fit. You might need to make a few follow-up visits during the next couple of months as your mouth gets used to the new appliance inside of it.
For implant-retained dentures, you'll have to undergo an oral surgery, during which Dr. McClain places the titanium posts into your jawbone. Luckily, she has enough training that she can perform this part of the treatment herself, without having to refer you to a specialist. You'll spend the next few months healing as the implants integrate with your jawbone. In some cases, we may be able to place temporary dentures during this process so that you never have to go a day without your teeth until your permanent restoration is ready.
Benefits of Dentures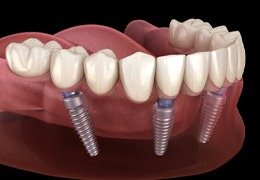 Dentures allow you to eat, chew, and smile with complete confidence, just like you did before you lost any teeth. They can help support your facial muscles, preventing premature sagging and wrinkling that ages you. Partials can even keep your remaining teeth from drifting out of place and evenly distribute the force of your bite to avoid jaw problems. Implant-retained dentures are particularly beneficial because they can provide unmatched stability for decades to come.
Understanding the Cost of Dentures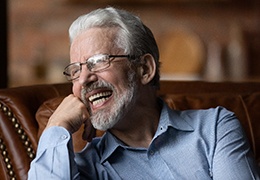 Unsure about the cost of dentures in Goodlettsville? Trying to identify how much you'll be expected to pay for your new smile cannot be determined based on others who also have dentures. Instead, you must schedule a consultation with Dr. McClain. Using various factors to determine the overall expense, she will direct you to our helpful team members who will assist in navigating your dental insurance policy and maximizing your benefits. We will also provide alternative solutions to help lower your out-of-pocket expenses.
Factors That Affect the Cost of Dentures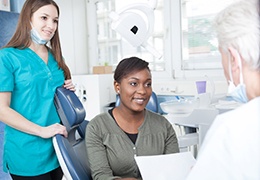 Your dentures in Goodlettsville will likely cost more or less than your friend or family member's new teeth. Why? Because no two cases are the same, and various factors must be considered to determine the price tag for your individual treatment. These include:
Whether you require preliminary care in the form of periodontal therapy or bone grafting (if your jawbone lacks proper density).
If you require a full or partial denture. If you're only missing a few teeth, you may prefer a partial denture as opposed to extracting your remaining teeth and having a full denture put into place.
The materials used to create the base of your denture and your artificial teeth. The most common materials are acrylic and porcelain.
Can you find cheaper dentures elsewhere? Of course, you can, but if you're looking for a solution that will last many years and offer beautiful, natural results, it's better that you pay more for higher-quality materials.
Are Implant Dentures More Expensive?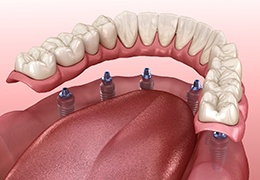 Yes, implant dentures are more expensive than regular prosthetics. But when you consider the advantages they offer, it should come as no surprise why millions of Americans are already enjoying their many benefits. Because of their surgical placement within the jawbone, they offer optimal stability and functionality, allowing you to eat and speak with ease. You can also experience greater oral health because of the continuous jawbone stimulation provided by dental implants. One of the most beneficial factors behind implant dentures is their longevity and the potential to enjoy a healthy, beautiful smile for a lifetime.
Does Dental Insurance Cover Dentures?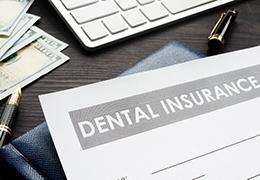 Depending on your dental insurance plan, there is a chance your insurer will cover anywhere from 50-80% of the total cost. Each plan is different, so you'll need to review your policy to determine how much you can expect your insurance carrier to cover. If you are unsure how to retrieve this information, a member of our team can help. Meeting your deductible is essential, and you can expect your annual maximum to be taken into consideration when verifying how much your insurer will agree to pay.
Other Options for Making Dentures Affordable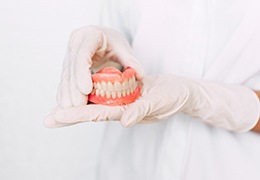 To make your denture treatment more affordable, your denture dentist in Goodlettsville is pleased to partner with CareCredit. This flexible financing option allows you to enroll in low or zero interest funding. Those who are approved can choose a monthly plan that is easy to follow and ensures they stay within their budget.
Dentures Aftercare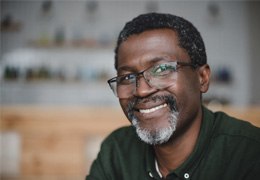 Receiving dentures to replace your missing teeth will give you the confidence you need to feel good about your appearance again. However, just because your artificial teeth make up your new smile doesn't mean you can neglect to see your dentist for regular checkups and cleanings. It's important that you keep these visits for many reasons. Apart from the fact that we will continue to monitor any remaining natural teeth and gum tissue, we will also check for abnormalities that might indicate oral cancer. With dentures, it can be hard to notice these changes on your own, so early detection from a trusted professional is paramount to ensuring a full recovery.
Removable Dentures
Remove After Eating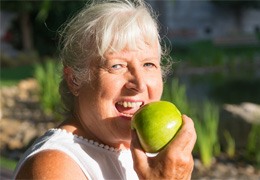 After every meal, you'll need to remove your dentures and give them a thorough rinse. This will help to eliminate buildup that consists of food debris and plaque. Also, you'll want to make sure that you avoid hot water, as this can warp the materials and cause them to no longer fit properly.
Clean Your Restoration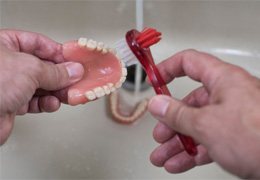 To properly clean your restoration, you'll need to first remove them. While cleaning, use a soft-bristled toothbrush and unscented soap to brush your artificial teeth. You can also use a denture cleanser. Instead of relying on regular toothpaste that is highly abrasive, switch to one that is gentler on restorations. If you are preparing to go to bed, make sure to place your teeth in a container of water or a denture-cleansing solution so they do not dry out and lose their shape. Also, before reinserting them the next day, rinse them thoroughly to avoid any of the cleansing materials entering your mouth.
Keep Your Dentures Safe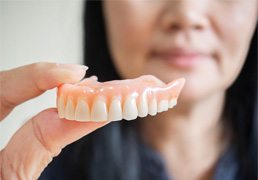 While cleaning your dentures, place a towel in the basin of your sink to avoid accidentally breaking your dentures should they slip out of your hands. Also, do not keep your dentures lying around so that young children and/or pets can easily access them. You run the risk of accidental damage should a toddler, child, or dog choose to throw or chew on them.
Remove Dentures When You Sleep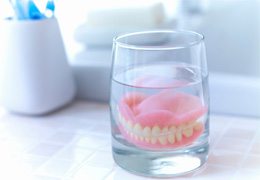 Although many patients do not, it is best if you remove your dentures before going to sleep. Not only does wearing them restrict gum circulation, which can irritate, but it is also known to increase your risk of pneumonia as well as gum and tongue plaque. Also, you'll want to make sure that your dentures remain in a container soaking overnight. This will ensure that they do not dry out or lose their shape, which can become a costly endeavor to fix.
Notice Changes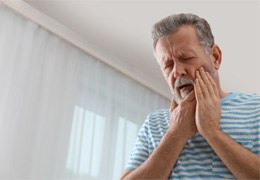 If you begin to notice any changes to your dentures, make sure to call our office right away. These changes can include mouth sores, gum irritation, and possible infection. Should they become damaged for any reason, avoid trying to repair them on your own and instead, call your dentist. We'll be able to help you as well as schedule an appointment for you to come in. If your dentures are shifting, clicking, or ill-fitting for any reason, let us know, as the restoration may need to be relined or replaced.
Denture FAQs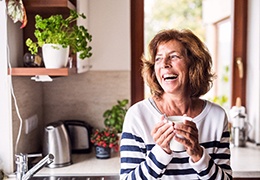 If you've never had dentures before, it's common to have a lot of questions about their use. You may be wondering what you can eat with dentures and when you should have them replaced. No matter what your questions may be, Dr. McClain will gladly answer them to the fullest extent so you can feel confident about your future smile. Below, you'll find the most common questions our practice has heard over the years for your convenience. If you have other concerns you'd like addressed, feel free to let us know!
Can I Sleep with My Dentures?
It's generally recommended that you take your dentures out before bed. While you'll be told by our office to wear it for at least 24 hours to ensure your mouth properly adjusts, you should start removing it in the evening when its not in use. When you wear a denture for too long, circulation in your gum tissue can become restricted. This leads to soft tissue irritation and can even speed up ridge resorption. By taking your dentures out after a day of use, you give your gums time to relax.
What is the Average Age for Dentures?
While tooth loss is not guaranteed as you get older, it is a far more common issue for older individuals. In fact, roughly 66% of adults between the ages of 40 and 64 are missing at least one tooth. This means those over 40 are generally more likely to need at least partial dentures compared to younger age groups. The American Dental Association also notes that nearly 57% of people ages 65 to 74 wear some form of denture, whether it's a partial or full variety.
Can I Have My Dentures Relined if They Don't Fit Properly?
It's common for dentures to need to be relined after many years of use due to wear and tear. Additionally, they will need to be repaired if teeth are missing or broken. If your gum line or underlying bone structure changes, you may need a reline for your denture as well.
Keep in mind that there are different types of relines available should you need one. For example, a soft reline is recommended when your gums appear sensitive to the weight of the denture. Here, we provide additional cushion to the prosthetic to prevent irritation. Hard relines are needed for more extensive changes as well as a dedicated lab to perform them. However, the results from a hard reline are generally longer-lasting (about a few years).
If you start to notice sores in your mouth, we can also perform a temporary reline to give your tissues time to heal. If you intend to use dental insurance, remember that most plans will not cover the cost of a reline.
Is It Hard to Talk with Dentures?
When you first receive your denture, it's normal to need some time to adjust to wearing them. How much time you'll need to adjust depends on how much time you spend speaking while wearing your denture. The more you practice, the faster the adjustment process should be. It's normal to have a minor lisp with dentures at first due to how it changes your palate. This should go away with time. A great way to practice with dentures is to read out loud to yourself or repeat words you find difficult to say. You can also use denture adhesive to give yourself added stability while adjusting.