Dentures – Goodlettsville, TN
Rebuild Your Smile with Realistic Prosthetics
When you have significant gaps in your smile due to missing teeth, everyday tasks like eating and speaking can become difficult. At Goodlettsville Smiles, we believe that no matter how many natural teeth you've lost, you deserve to have a complete set of pearly whites you can be proud of. That's why we offer full, partial, and implant-retained dentures to help rebuild your smile after any degree of tooth loss. To learn more about dentures in Goodlettsville and how they can benefit you, keep reading below, or pick up the phone and call us!
Why Choose Goodlettsville Smiles for Dentures?
Restorations Custom-Made for Every Patient
Enjoy Your Favorite Foods Again
Implant-Retained Dentures Placed In-House
Types of Dentures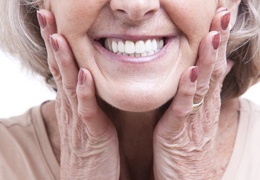 Dentures come in three main varieties. Depending on your individual needs, Dr. McClain may suggest one of the following:
Full Dentures
Designed to replace the entire top or bottom arch of teeth, a full denture consists of a set of artificial teeth anchored to an acrylic base the same color as your gum tissue. This base sits on top of the gums with natural suction or a bit of denture adhesive for additional security.
Partial Dentures
Partials are made to fit within your existing smile like a missing puzzle piece. Made of a metal framework that sits behind your natural teeth, the artificial teeth attached to it are designed to resemble your remaining pearly whites.
Implant-Retained Dentures
Four to eight dental implants per jaw can hold a full or partial denture in place, creating a more stable and long-lasting fit than a traditional denture alone. The added security restores much more biting power, allowing you to enjoy your favorite chewy and crunchy foods with greater ease.
The Process of Getting Dentures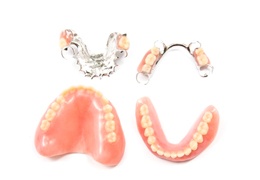 After Dr. McClain has determined that you're a good candidate for dentures, the process starts with any needed preparatory treatments, like gum disease therapy or tooth extractions. Then, impressions of your gums and any remaining teeth are taken to design a mold of your denture. You'll try on the mold and we'll adjust it as needed until it's a perfect fit. We'll send it to a dental lab, where your new teeth are cast. In a few weeks, you'll return to our office to have your denture fit. You might need to make a few follow-up visits during the next couple of months as your mouth gets used to the new appliance inside of it.
For implant-retained dentures, you'll have to undergo an oral surgery, during which Dr. McClain places the titanium posts into your jawbone. Luckily, she has enough training that she can perform this part of the treatment herself, without having to refer you to a specialist. You'll spend the next few months healing as the implants integrate with your jawbone. In some cases, we may be able to place temporary dentures during this process so that you never have to go a day without your teeth until your permanent restoration is ready.
Benefits of Dentures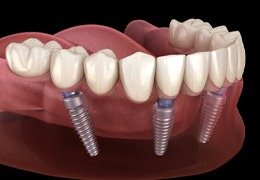 Dentures allow you to eat, chew, and smile with complete confidence, just like you did before you lost any teeth. They can help support your facial muscles, preventing premature sagging and wrinkling that ages you. Partials can even keep your remaining teeth from drifting out of place and evenly distribute the force of your bite to avoid jaw problems. Implant-retained dentures are particularly beneficial because they can provide unmatched stability for decades to come.