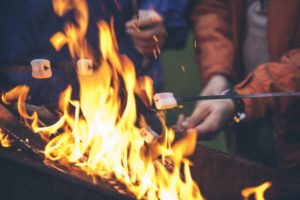 As the COVID-19 pandemic continues to affect the lives of almost everyone in the country, families are getting back to the basics. They are finding ways to enjoy summer in the safety of their own homes. Your dentist in Goodlettsville wants to help you do that! That's just one of the reasons why we are hosting a summer fun giveaway. In this blog post, you'll learn what the prize is, how you can enter to win it, and how our team feels about our wonderful patients.
The Prize
Love summertime treats? So do we! Our summer giveaway prize includes:
A firepit. What's more comforting than relaxing by the fire on a lovely summer evening? The firepit that we are giving away offers a convenient way to warm up next to a merry blaze.
S'mores essentials. The gooey, warm sweetness of s'mores has been a summertime staple for generations. Our prize includes all the ingredients you need to indulge in this classic sweet treat, including milk chocolate bars, marshmallows, and graham crackers. (Just please be sure to thoroughly brush your teeth after you finish your s'more.)
How to Enter
Entering our giveaway is simple. There are two ways to get your name in the running:
Submit a review of our practice on Google. What did you think about your latest experience in our office? Did you love our friendly team, the gentle care, and our attention to safety? Let the world know your thoughts by posting your review on Google. We are proud of the many positive reviews we already have, and we look forward to having yours among them.
Refer a family member or friend to us. Finding a good dentist can be challenging, but you can help your friends, family members, and acquaintances to find an excellent oral healthcare provider. Let them know about our practice, and you'll be entered to win our giveaway when they book an appointment.
After you enter our giveaway, you can relax while you wait for the winner to be announced on September 4.
We Love Our Patients
Our summer giveaway is just one of ways in which we wish to express our appreciation for our patients. We know that COVID-19 has caused stress and hardship for many people in our area, so you deserve commendation for continuing to keep your oral health a priority in these unprecedented times. We are committed to helping your smile continue to thrive during this challenging period and well into the future.
Dr. McClain and our entire team are looking forward to showing how much we love you through hugs and handshakes when COVID-19 is no longer a threat. In the meantime, please remember how much we value you. You are truly the lifeblood of our practice.
About the Author
Dr. Deidra Harrison-McClain earned her Doctor of Dental Surgery through Meharry Medical College in Nashville, where she graduated at the top of her class. Since then, she has been fulfilling her longtime dream of practicing the art and science of dentistry. She and the entire team at Goodlettsville Smiles are proud to provide top-quality care in a safe environment throughout the COVID-19 pandemic. To learn more about Dr. McClain, our safety standards, or our summer giveaway, contact us at 615-859-0188.