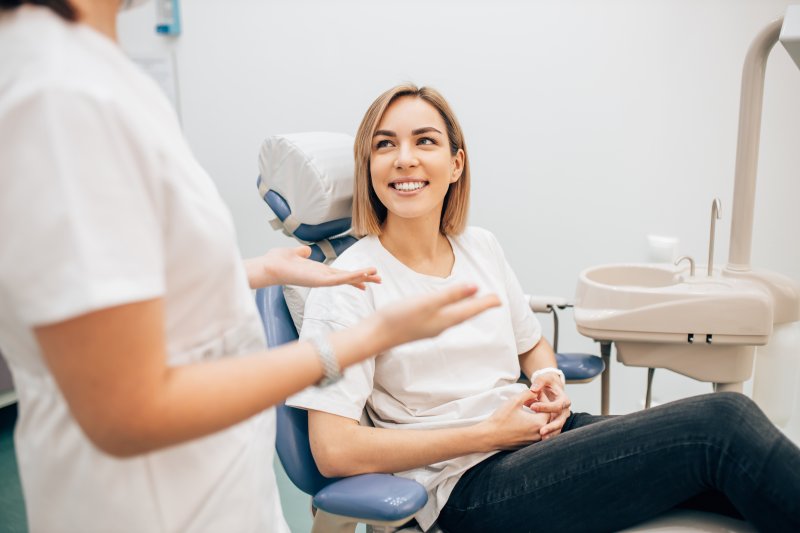 Everybody wants to stay safe during the COVID-19 pandemic. Between quarantining and social distancing, many people want to limit their public exposure as much as possible. However, dental situations still arise, pandemic or not. Dental offices are doing everything they can to ensure your safety. Even when there isn't a pandemic, practices are held to strict safety standards by the CDC and OSHA. Due to COVID, dental professionals are taking these standards to the next level. Even before your appointment, teams are taking great care to create the safest environment possible. Read on to learn 3 ways that your dentist in Goodlettsville is helping to reduce the spread of the virus.
1.) Screenings for Professionals & Patients
Every dental team's first priority is maintaining the health of their patients. Each day, before the start of business, every single team member receives a no-touch temperature check as well as a questionnaire to determine how likely it is that they have been recently exposed to the virus. Additionally, each patient receives this same test before their appointment. It's very important to make sure that both the dental team and patients are not likely to spread the virus to each other.
2.) Designating an ICC
An ICC (Infection Control Coordinator) is someone who makes sure that each safety and sanitation protocol in a dental practice is being followed to the letter every single day. They help to make sure that no corners are cut and that the safety of each patient is prioritized above all else.
3.) Additional Protective Equipment
Dental teams always use PPE (personal protective equipment) during your appointment to protect you from the spread of germs. They always utilize disposable masks and gloves to maintain a sterile environment. During the pandemic, they are taking things a step further. During your next appointment, you may notice your dentist, hygienist, and assistant, wearing face shields and surgical gowns to effectively negate the spread of potentially harmful particles and microorganisms.
Your safety is always paramount at your dental office. These three new protocols are just the tip of the iceberg when it comes to your Goodlettsville dentist's response to COVID-19. The next time you schedule a dental appointment, you can be assured that you are in good hands.
About the Author
Dr. Deidra Harrison-McClain loves being able to bring her patients to optimal oral health. Since graduating at the top of her class from Meharry Medical College in Nashville, she has dedicated herself to continuing her education and providing excellent care for her patients. She completed a one-year dental residency through the University of Tennessee College of Dentistry where she was trained in advanced dental skills such as anesthesia, emergency dentistry, and operating room dentistry. Her patients can feel confident that they will receive top-tier dentistry in a comfortable, safe environment. If you'd like to learn more about how she and her team at Goodlettsville Smiles are responding to the pandemic, they would love to speak with you. Give the office a call at 615-205-9550 or send them an email.