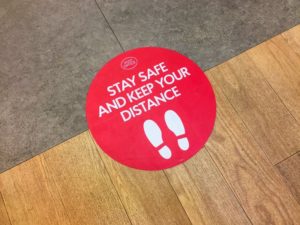 COVID-19 has changed virtually everything about our daily lives. Even going grocery shopping has become a lot more serious than it used to be just a few months ago. One aspect of society that has changed quite a bit is dentistry. Did you know that your dentist in Goodlettsville is implementing social distancing into their practice? How is that possible? Keep reading to find out.
How Is Your Dentist Adhering to Social Distancing Guidelines?
Here are the ways your dentist is enforcing social distancing:
Virtual Waiting Rooms
Instead of waiting inside the office, your dentist will have to check virtually with your phone. You'll then wait in the car until the dentist is ready to see you. This prevents possible germ transmission from sitting too close to other people in the waiting room.
More Spaced-Out Appointments
Simply put, your dentist is not seeing as many patients in a day as they used to. Instead, most appointments are longer than normal, allowing for more treatments to be performed in one sitting. Having spaced-out scheduling also allows for more time in between patients to disinfect the office.
Having a Safety Champion
Every day, a different member of your dentist's staff will be that day's designated Safety Champion. This person will be in charge of enforcing social distancing guidelines, as well as answering questions, greeting patients, and overall monitoring.
What Other Safety Precautions Is Your Dentist Taking?
Your dentist is implementing several other safety measures in the age of COVID-19, some of which include:
Performing daily health checks of the entire dental team
Having patients rinse with an antimicrobial mouthwash and wash their hands before their appointment begins
Asking patients questions about their recent health upon arrival
Deep cleaning the office every evening
Having each member of the clinical team wear face masks as well as extra PPE (personal protective equipment) like face shields and shoe coverings
Having the staff change into and out of their work clothes at work instead of at home
Social distancing is completely possible, even in dentistry. If you're still curious as to how your dentist is keeping their patients healthy and safe from the germs that cause COVID-19, just pick up the phone and give them a call.
About the Author
Dr. Deidra Harrison-McClain is a dentist in Goodlettsville, TN who earned her Doctor of Dental Surgery degree from Meharry Medical College in Nashville, where she graduated at the top of her class. She has experience in several aspects of dentistry, including oral surgery, emergency medicine, and anesthesia. Her practice follows all of the social distancing guidelines listed above and more. To learn more about how she is keeping her patients safe from COVID-19, you can contact her office at (615)-859-0188.