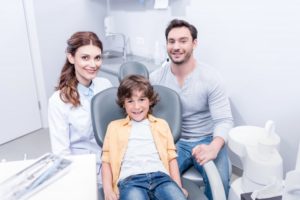 In the midst of all the other life events you have going at once, you're tasked with the responsibility of coordinating dental care for your entire family. Tackling this starts with finding the right dentist(s) to work with. Should you seek care from multiple dentists to meet your family's varied needs, or would you be better off working with a single practice that provides a multitude of care options? Continue reading to discover the top 5 benefits of working with a family dentist in Goodlettsville.
#1 – Consistent Care
When you're working with several practices, it's just inevitable that there will be differences in the way care is conducted. If you're like most people, consistency is appreciated. That's what you'll get when you work with a family dentist. Therefore, you can take comfort in knowing that everyone in your tribe will receive the same quality of care.
#2 – Access to a Broad Range of Treatment Options
One of the unique traits of family dentists is that they are able to provide a full scope of treatment options. That's because they undergo rigorous training in a multitude of areas. While your children may be in need of a fluoride treatment, the older members may require a form of tooth replacement. Whether a family member is eight or 80, there are ways to help them experience the absolute best in dental health.
#3 – The Formation of Strong Relationships
Finding the right dentist to meet your family's needs is the start of a long-term relationship. With each visit – each tidbit of helpful information that is provided – each dental issue that is successfully avoided, trust builds. Every positive experience leads to more and more confidence in the dentist and staff.
#4 – Dental History on File
Another perk of working with a family dentist is that all your records will be centralized in one location. Therefore, if any issues arise that require the dentist to review a family member's dental history, the files will be easily accessible.
It is also for this purpose that X-ray photos are taken at the start of new visits. They allow the dentist to establish a baseline for everyone's oral health and monitor progress as time goes by.
#5 – Healthy Habit Development
As a parent, you're always concerned about your children's future. You want to make sure they'll maintain healthy habits throughout their adult lives. Every positive experience they have at the dentist will contribute to achieving this goal.
Once you've identified a family dentist in your area that you think will fit your family's needs, don't hesitate to reach out to schedule your first visit. In doing so, you'll be placing your family on track to be as healthy and happy as possible!
About the Author
Dr. Deidra Harrison-McClain earned her dental degree from Meharry Medical College in Nashville. Throughout her career, she has worked tirelessly to expand her knowledge, taking several hours of continuing education. Dr. McClain welcomes family members of all ages to receive the compassionate and competent care they need. She practices at Goodlettsville Smiles, and she can be reached for more information or to schedule a visit through her website.