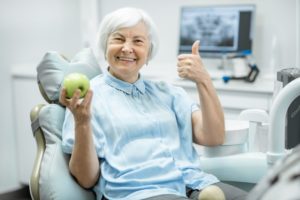 When you were missing your teeth, a set of traditional dentures were placed to allow you to smile and regain some of your functionality. As time has gone by, you've noticed some undesirable changes in the way the dentures fit. Now, they're subject to slipping or even falling out your mouth. You've heard about the possibility of receiving implant-retained dentures in Goodlettsville for tooth replacement, but can they really make a difference? Continue reading to find out!
What are Implant-Retained Dentures?
Traditional dentures only replace teeth above the gum line. The only tooth replacement option that mimics the stability provided by the original tooth root is dental implantation. The procedure involves a minor surgery where a dentist will insert four to six titanium implants per arch. The strategically spaced and angled implants allow for a minimally invasive procedure and for a set of dentures to securely snap into position.
Can Dental Implants Improve Dentures?
With the addition of dental implants, dentures are anchored in place. Thus, you no longer have to worry about any embarrassing slips or the dentures dislodging. Here are some specific advantages of choosing dental implants:
No more pain – Because implant-retained dentures are securely held in place, you won't have to worry about any slipping that causes uncomfortable gum irritation.
Greater functionality – With traditional dentures, you can expect to regain around 25% of your original chewing capacity. Implant-retained dentures make an exponential difference, restoring up to 75% or more of your chewing power.
A natural look – By attaching beneath the gum line like tooth roots, dental implants allow for a more natural and attractive appearance. As a result, patients find themselves compelled to smile more often.
Easy to clean – Before retiring for bed, traditional dentures must be removed to soak them and allow the gums time to recover. There's no need for this with implant-retained dentures. You'll simply brush and floss like you normally would. The only exception is that you'll use floss specifically made for dental implants.
Are Dental Implants Right for You?
To have this question answered, you'll need to visit a dentist in Goodlettsville. He or she will thoroughly assess your oral health and measure your jawbone density. If either is insufficient, the appropriate restorative care can be planned so you can proceed with achieving a fully restored and highly functional smile.
If you're tired of the limitations posed by traditional dentures, then the time has come to make a change. With implant-retained dentures, you can finally enjoy a more fulfilling and healthier life!
About the Author
Dr. Deidra Harrison-McClain earned her dental degree from Meharry Medical College in Nashville. Never one to shy away from hard work, she has striven to further her knowledge by taking several hours of continuing education. Thus, Dr. McClain is able to provide her patients with competent and compassionate care. She places implant-retained dentures at Goodlettsville Smiles, and she can be reached for more information through her website.